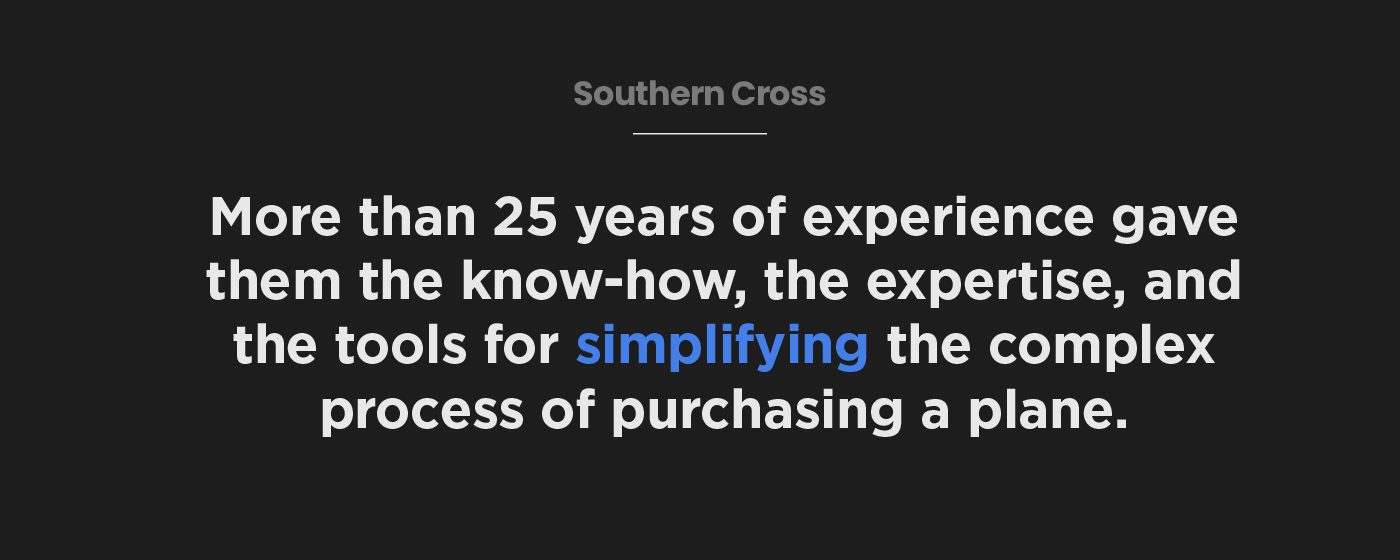 Southern Cross Group is an international company based in USA and have been leading the Jet Brokerage world for 30 years. They came to us looking for a refreshment for their brand which wasn't reflecting the company values.
We worked together with them sharing our ideas and concepts and resolved that the star was a key element and we should base the identity around it. We also thought that it was a good idea to use it across other divisions the company has.
Southern Cross founders although based on USA they're originally from Argentina where the Albatross bird is a national symbol, that's why we thought the brand to come up with should have some reminiscence to it, linking it somehow to the fact the deal with aircrafts.
Southern Cross is divided in Aviation and Aircraft divisions, where one deals with maintenance and parts, while the other one deals with brokerage services.
The concept behind the logo
Simple enough so it can be carved in metal
or sewed to the leather seat.
So to sum up: Southern Cross is an American brand with strong roots.
For the font landscape and color palette we wanted something that could be elegant and edgy at the same time. We came with a selection that allowed us to be flexible.
Southern Cross Group is composed by two divisions. "Aircraft" manages the brokerage and sales, targeted to new customers. "Aviation" manages accessories and parts, targeted to regular customers so. Each have it's own personality.
Digital Communication Templates
The campaign is a three piece and centered on 3 focus: Aspirational Mood, Service and Expertise. We wanted to communicate that making business with Southern Cross is not stuffy as with other brokers, instead they make it smooth and easy. As a young company we set up an edgy tone but kept a simple look and feel so as not over do it.
The brand over the digital platforms
Social Network different approaches